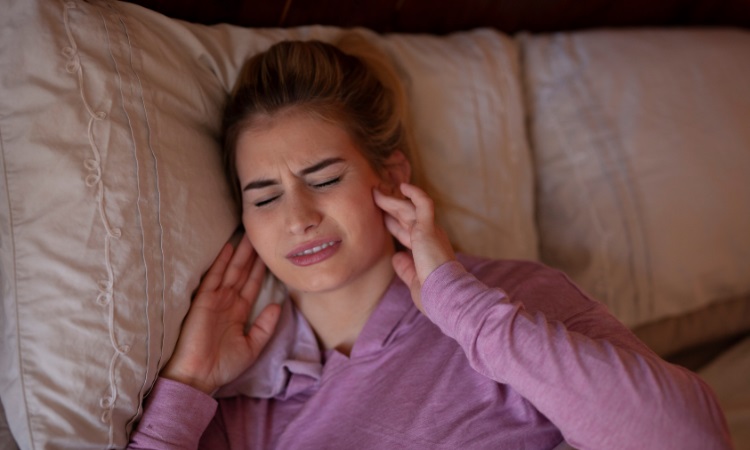 The TMJ, or temporomandibular joint, is the joint that hinges your lower jaw and upper jaw together and allows for proper chewing and speaking. Stress on the joint, either from misalignment in the bite or teeth grinding or clenching during sleep can create a pattern of overexertion on the TMJ and lead to pain and chronic injury. This is known as TMD, or temporomandibular disorder. If you're experiencing jaw pain, ear ringing, or waking with headaches, Dr. Amin Samadian has options for treatment that can help alleviate your pain.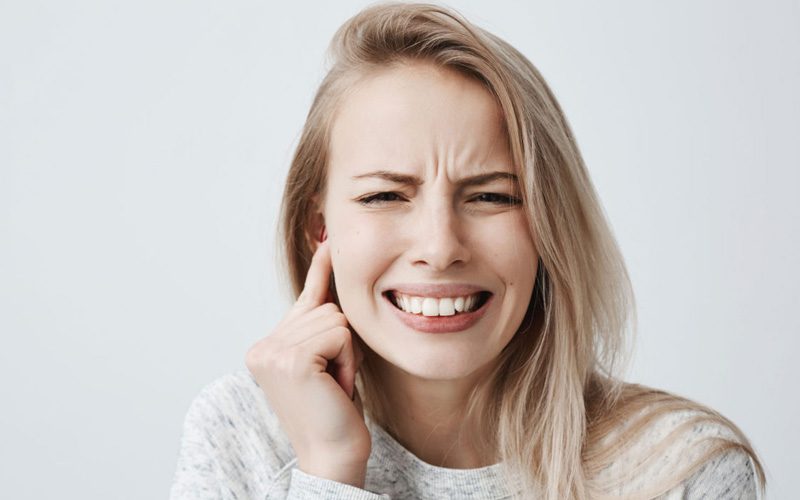 What Treatments are Available for TMJ / TMD Pain?
Located right in front of the ear, the TMJ pivots when the mouth opens and closes, and muscles control the movement itself. The pivot point is protected by the articular disk, which keeps the motion smooth. When the pivot isn't aligned, the teeth come together unevenly, creating stress on the muscles and pain. TMD is diagnosed when this disk becomes dislocated or otherwise damaged. Overnight teeth grinding (bruxism) or jaw clenching during sleep are contributing factors. Because we're not awake to feel it, we can't voluntarily stop bruxism and clenching.
BOTOX® is a neurotoxin that blocks muscle movement. Injecting the medication into trigger points contributing to myofascial pain, neck pain, and migraines can prevent the movement that causes the pain. When used for TMJ pain and TMD, BOTOX® prevents the dysfunctional muscle movement that forces the joint out of position and puts pressure on the articular disk. BOTOX® may be used alongside anti-inflammatory drugs, gentle stretches, and stress reduction.
Occlusal guards, which sit atop the teeth between upper and lower arches, are an effective treatment because they prevent bruxism and jaw clenching during sleeping hours. By controlling bite alignment, occlusal guards keep your TMJ from pivoting incorrectly, relieving strain on the articular disk and relaxing the muscles. The guard also absorbs energy from jaw clenching, which puts less strain on your muscles and TMJ to rectify acute and chronic jaw pain.
Laser TMJ Bio-Stimulation is another option for TMD treatment. Through a controlled combination of wavelengths, one of which decreases inflammation and the other relieves pain, Laser TMJ Bio-Stimulation enhances nutrient absorption in your tissues and increases blood circulation while boosting cellular energy for repair. This is a good treatment option when other treatments haven't proven effective.
What Does TMJ / TMD Treatment Involve?
If Dr. Samadian recommends an occlusal guard, a digital scan maps your jaw and facial structures. Your guard is then fabricated immediately in our in-house lab and fitted right away to ensure its proper positioning. Wearing it at night minimizes grinding and clenching.
With BOTOX® treatments, Dr. Samadian carefully examines the myofascial structures that make up all aspects of your jaw and the TMJ itself. The injections are precisely placed into the muscles responsible for the pain with an ultra-fine needle. Other than the slight pinprick, it's not painful.
With Laser TMJ Bio-Stimulation, Dr. Samadian's San Francisco experts move the laser handpiece along your treatment area while you relax in a chair. The laser energy targets the pain's source and boosts cellular growth and repair. It's fast, only requiring about 10 minutes to complete. It is not a painful experience.
What Results Will I See?
With BOTOX®, patients report noticeable improvement to TMJ pain within a few days of treatment, though it can take up to 2 weeks to fully freeze the muscles. The results will wear off in about 12 months. Laser TMJ Bio-Stimulation may require 2-3 treatments to be effective, but the pain reduction is long lasting. An occlusal guard will be successful for as long as you wear the appliance.
Take the Next Step
If you have questions about TMJ / TMD treatments, we encourage you to schedule a consultation with ​Dr. Amin Samadian, proudly serving the East Bay Area, Orinda, Lafayette, Moraga, Piedmont, Danville, San Ramon, Alamo, Walnut Creek, Pleasant Hill, Concord, Oakland, Berkeley, and Brentwood, CA. You can count on him to help you make an informed decision. Call us at ​(925-254-2360) ​or fill out our convenient online contact form.