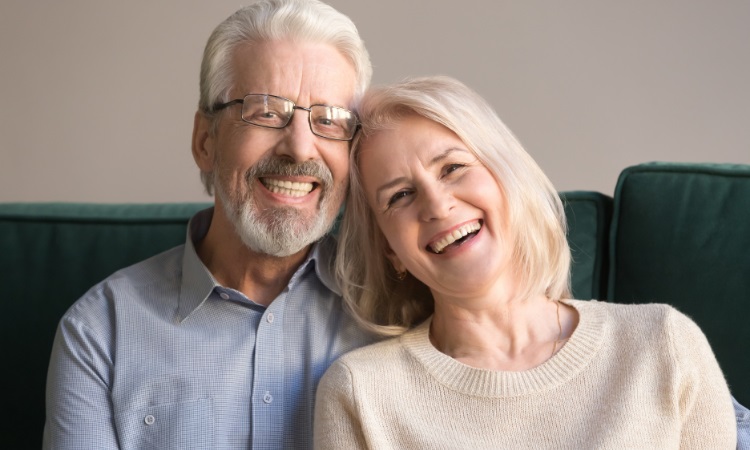 The loss of teeth can create all kinds of issues, from the emotional impact to practical issues in terms of speaking and chewing. Dr. Amin Samadian understands how important good quality dental work can improve your daily life, and has the solutions you need to restore your smile.
How Do Dentures and Overdentures Work?
When we think of the fix for missing teeth, most of us think of dentures. Dr. Samadian creates dentures in his in-office lab using state-of-the-art technology to improve your facial structures, significantly improve chewing and speaking, and replace several missing teeth. Dentures can be partial or complete, depending on the number and location of your missing teeth, and they're tightly secured by a plastic base that mimics your gums in appearance. They're affixed by dental adhesive to comfortably rest on your gums.
With advances in dental implants—small surgical hardware implanted in your jawbone—overdentures have become popular as more stable than traditional dentures. Overdentures snap onto dental implants, which support several teeth per post and completely remove the need for adhesives. You can have just a few missing teeth replaced or the whole arch of your upper or lower teeth. Overdentures can also be a step toward All on Four implant-supported hybrid dentures.
Differences Between Dentures and Overdentures
Dentures and overdentures perform similar functions, but there are some differences between them, and Dr. Samadian can consult with you to assess which choice is best for your unique case.
You need a healthy amount of gum tissue and jawbone to support dentures. Traditional dentures may feel awkward or bulky at first, but you'll acclimate fairly quickly. These dental appliances are affixed into position using a strong, specialized adhesive, allowing for their removal for cleaning. Unfortunately, traditional dentures require some lifestyle adjustments. They can cause chewing issues, particularly with challenging foods such as apples, nuts, popcorn, tough meats, and corn on the cob.
Over time, you may experience some loss of gum tissue and loss of jawbone, which can change the fit. Bone loss can also change your jaw and face shape, which leads to premature aging. Dentures can be bulked out to maintain some of your face shape, but that's not always ideal.
Overdentures actually preserve bone via the implants affixed to your jawbone. Implants require a 2-4 month healing period during which time your overdentures will be created. Overdentures do not need adhesive because they snap into place over the healed implant posts, and as such, have less risk of rubbing and irritating your gums.
Overdentures don't require the same considerations for difficult foods as traditional dentures because they're more stable. You can still enjoy the crunchy, chewy foods you love without worrying your teeth will be affected.
Both types of dental appliance include simulated gum tissue and porcelain crowns to mimic your natural teeth and gums, so there's not much difference in the way they appear to others. They are also both removable, aiding in their routine cleaning and care, and are easier to repair than fixed dentures. This makes hygiene simple as both the appliance and the gums beneath are fully accessible.
Dentures and overdentures are cared for similarly, much like care for your natural teeth. You'll need a daily denture cleanser for them, and they should stay moist when they're not in your mouth. Cleaning your gums and tongue helps reduce oral bacteria that leads to bad breath and gum disease
Choosing dentures or overdentures is a highly personal decision, one Dr. Samadian is prepared to assist with every step of the way.
Take the Next Step
If you have questions about dentures or overdentures, we encourage you to schedule a consultation with ​Dr. Amin Samadian, proudly serving the East Bay Area, Orinda, Lafayette, Moraga, Piedmont, Danville, San Ramon, Alamo, Walnut Creek, Pleasant Hill, Concord, Oakland, Berkeley, and Brentwood, CA. You can count on him to help you make an informed decision. Call us at​(925-254-2360) ​or fill out our convenient online contact form.